[Mediafire]The Lord Of The Rings: Battle for Middle Earth 2 Rise of The Witch King


Publisher:EA GamesDeveloper:EA LAGenre:Real-Time StrategyRelease Date:Mar 2, 2006 (more)ESRB:TEEN Description:The Lord of the Rings, The Battle for Middle-earth II is the next PC installment to EA's blockbuster The Lord of the Rings
series of video games. The Lord of the Rings, The Battle for Middle-earth II is a sequel to the critically acclaimed Real-time Strategy (RTS) game from EA Los Angeles, The Lord of the Rings
, The Battle for Middle-earth
. The newest The Lord of the Rings PC title will introduce players to depths of the fiction never before explored by EA, in accordance with an agreement with The Saul Zaentz Company d/b/a Tolkien Enterprises that grants EA the rights to develop games based on the books, in addition to a separate agreement that allows for games based on the New Line films. Expanding on The Lord of the Rings, The Battle for Middle-earth, the new RTS game will allow players to engage in heated battles with Elven and Dwarven armies plus heroes and creatures that have never been seen in a The Lord of the Rings film.Features * Customization, Command, & Control * Build your own landmark castle with fully customizable and upgradeable fortresses and walls. * Create your own hero with all new customized RTS units that are your avatars in-game. * Control battles with all-new enemy AI, melee combat, and flanking, adding unprecedented tactical fidelity Core RTS Depth of Strategy Master next-gen unit control with smart formations, battle lines, and planning mode. * "Build anywhere" brings creativity and strategy to base building and battlefield dominance. * Control the entire war with a high level "Risk" style meta-game on the Living World Map with all new strategic AI . * Extend your battlefield with larger than life navy battles at seaHardware RequirementsWindows XPProcessor: 1.6 GHZRAM: 256MBCD-ROM: 8x or faster DVD driveHard Drive: 6.0 GB or more free spaceVideo Card: DirectX 9.0c compatible Video card with 64 MB or more memory and one of these chipsets is required: ATI Radeon 8500 or greater; NVIDIA GeForce 3 or greater (GeForce 4 MX not supported)Processor: DirectX 9.0c compatible sound card

http://www.mediafire.com/?sharekey=256b97d1cb78ab3c7f7ec40ada4772a6957fa21f8dc7f399416b94653a3044fd


Serial!!

=============================================================================

Rise of The Witch King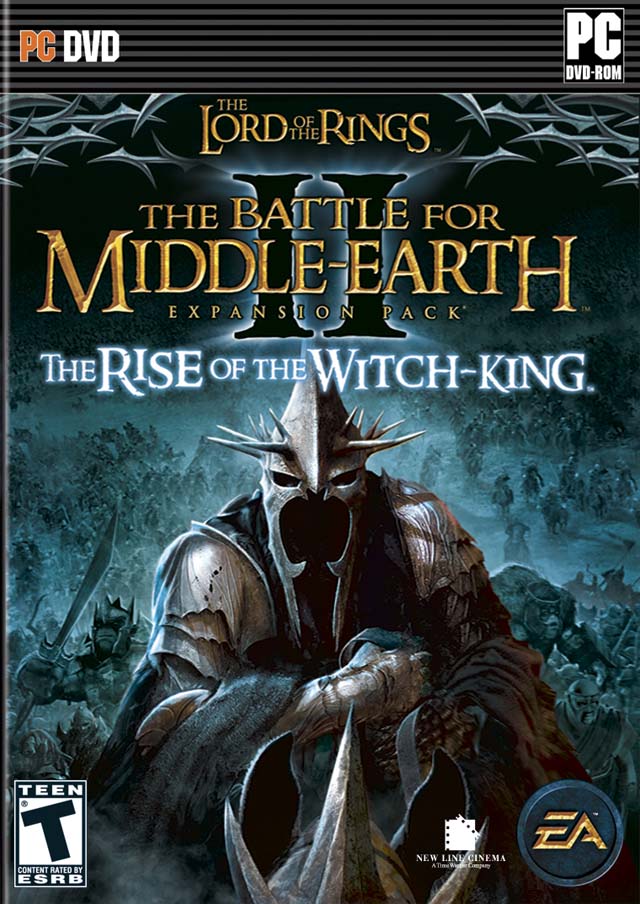 Publisher:EA GamesDeveloper:EA LAGenre: Real-Time StrategyRelease Date:Nov 28, 2006 (more)ESRB:TEEN DescriptionFull of exciting content, including an entirely new faction, completely new single player campaign, and additional units for all six existing factions, The Lord of the Rings, The Battle for Middle-earth II, The Rise of the Witch-King, allows players to explore the evil side of Middle-earth. The all new single player campaign's innovative units will help to tell the story of the evil Witch-King's rise to power, domination of Angmar and invasion of the great kingdom of Arnor, home to Aragorn's ancestors. To fully experience the evil side of Middle-earth, gamers can now play as the Angmar faction in skirmish, multiplayer, and War of the Ring modes.Experience a whole new depth of strategy and upgraded War of the Ring and Create-A-Hero features. Create-A-Hero's entirely unique Troll class boasts additional weapons and armor that will allow players to have even more freedom in customizing their game play. War of the Ring, a risk-style meta-game, offers upgraded army persistence, a new siege dynamic on the Living World Map, and unified territories that serve as major control points.Hardware RequirementsWindows XPProcessor: 1.6 GHZRAM: 256MBCD-ROM: 8x or faster DVD driveHard Drive: 6.0 GB or more free spaceVideo Card: DirectX 9.0c compatible Video card with 64 MB or more memory and one of these chipsets is required: ATI Radeon 8500 or greater; NVIDIA GeForce 3 or greater (GeForce 4 MX not supported)Processor: DirectX 9.0c compatible sound card

SeRial!!